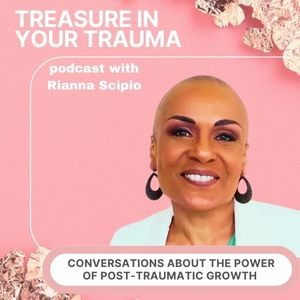 Welcome to "Treasure in Your Trauma", the podcast where Rianna Scipio and guests explore the power of turning our past pain into present purpose. Join Rianna, your host, as she dives deep into conversations with inspiring individuals who have faced adversity head-on and emerged stronger, wiser, and more resilient. We'll explore the lessons they learned from their darkest moments and how they transformed their trauma into treasure. Together, we'll uncover the hidden gems in our own stories and learn how to use them to create a more fulfilling and meaningful life. We'll talk about everything from overcoming addiction and sexual abuse to stories of people who have transformed childhood adversity into solid foundations for the most piercingly beautiful lives you can imagine. So, whether you're on a journey of self-discovery or just looking for some inspiration, this podcast is for you. Get ready to uncover the treasure in your trauma and discover your super power - not in spite of your pain - but because of it. Listen to the teaser of "Treasure in Your Trauma" now!
Episodes
Tuesday Jan 31, 2023
Tuesday Jan 31, 2023
In the very first episode of "Treasure in Your Trauma", we sit down with a special guest whose story is sure to inspire and captivate you.
She's a survivor of a traumatic childhood, and despite the odds, she's found a way to turn her pain into purpose. Through her journey of healing and self-discovery, she's become a successful entrepreneur, lawyer, and advocate for mental health.
In this episode, we'll hear her raw and honest account of her trauma and the pivotal moment that changed everything. We'll learn how she found the strength to break free from cultural trauma that she assumed was normal and turn her life around.
This conversation is one you won't want to miss. It's a story of hope, resilience, and the power of finding meaning in our pain. So join us for the first episode of "Treasure in Your Trauma", and discover the treasure within your own story. Check out the teaser here.